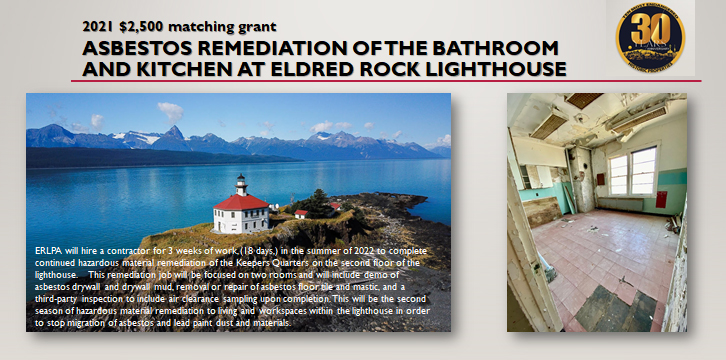 ERLPA will hire a contractor for 3 weeks of work, (18 days,) in the summer of 2022 to complete continued hazardous material remediation of the Keepers Quarters in the second floor of the lighthouse. This remediation job will be focused on two rooms and will include demo of asbestos drywall and drywall mud, removal or repair of asbestos floor tile and mastic, and a third-party inspection to include air clearance sampling upon completion. This will be the second season of hazardous material remediation to living and work spaces within the lighthouse in order to stop migration of asbestos and lead paint dust and materials.
ERLPA was able to purchase all necessary tools, equipment, and Personal Protective Equipment (PPE) for this work in the summer of 2021 using a $20,000 Tier 1 grant from the Rasmuson Foundation. Mercury LLC, a contractor qualified to conduct asbestos and lead abatement, has previously volunteered at Eldred Rock Lighthouse and is willing to donate all labor hours above a flat rate of $2000 per week. Likewise, Sigrid Dahlberg, a Hazardous Material Engineer in Juneau, AK, has agreed to supervise the remediation plan as well as act as inspector.
The cost of hazardous waste disposal services is not included in the cost of this project since disposal will encompass more waste than these two rooms. Please see drawings for clarification.