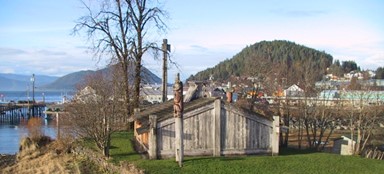 This award honors excellence in historic preservation throughout Alaska by recognizing a project, organization, agency, or individual exemplifying the highest standards in Alaska preservation.
2023 Annual Historic Preservation Awards are Open for Nominations
Instructions, eligibility criteria, and the forms to submit a nomination for the 2023 AAHP Historic Preservation Award can be found online at https://alaskapreservation.org or contact the organization via email for an electronic copy. The deadline for all nominations is October 10, 2023.   
Founded in 1982 as a private, nonprofit corporation, Preservation Alaska is dedicated to the preservation of Alaska's prehistoric and historic cultural resources. Preservation Alaska aids in historic preservation projects across Alaska, and monitors and supports legislation (local, state, and federal) to promote historic preservation, serving as a liaison between local, statewide, and national historic preservation groups. Additionally, the organization publishes a quarterly newsletter and holds educational workshops.
For more information or to obtain the program's overview and nomination form, please contact Trish Neal, President of Preservation Alaska at 907-929-9870 via email at [email protected] or visit their website https://alaskapreservation.org. Nominations may be sent via email or mailed to AAHP, PO Box 102025, Anchorage, AK 99510. Deadline is October 13, 2023.
2023 Annual Historic Preservation Awards Instructions (PDF Format)
2023 Annual Historic Preservation Awards Instructions (Word Format)
Past Excellence in Historic Preservation Award Winners